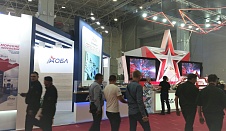 In accordance with the decree of the Government of the Russian Federation No. 1606-R of July 19, 2019 and the decision of the Minister of defense of the Russian Federation, the VI international military-technical forum "Army-2020" will be held in the Patriot Convention and exhibition center, Kubinka airfield and Alabino training ground from August 23 to 29, 2020.
The forum is a unique platform for demonstrating the best achievements in the field of modern weapons, military equipment and technologies, construction and logistics for the interests of the Russian defense industry. The scientific and business component of the Forum is based on the principles of open and free exchange of views and constructive dialogue.
Oboronlogistics stand # 4C2 is traditionally located in Pavilion D of the Patriot Park exhibition center. At the stand, you will be able to get acquainted with the activities of Oboronlogistics LLC, see solutions to a wide range of logistics tasks in the field of military-technical cooperation and commercial cargo transportation, and learn about successful examples of interaction with state corporations and commercial organizations. The stand will be attended by the management and leading specialists of Oboronlogistics LLC, who are ready to answer any questions and discuss opportunities and prospects for joint activities on existing and new projects.