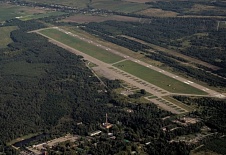 The Russian defense Ministry, together with the government of the Moscow region and a number of interested organizations (investor companies and designers), is working on a project to develop a new airport at the Moscow aviation hub based on the Klin-5 military airfield. Oboronlogistics is involved in the project as the transport and logistics company.
A working meeting of representatives of interested parties was held on June 19, 2020 at Klin-5 airfield in order to develop the airport's General development plan, start pre-project studies and coordinate positions. The previously formed working group, which includes specialists of Oboronlogistics LLC, conducted an inspection and reconnaissance of the territory to develop technological solutions for the modernization of the airfield and airport complex (the composition and scope of work, calculation of the necessary funding), followed by their inclusion in the Master plan.
Klin-5 is an active military airfield. Convenient location, transport accessibility (50 minutes by car from the Moscow ring road, the Moscow-Saint Petersburg M11 highway, the Leningrad M10 highway, the Moscow Big Ring A108 motorway, the Oktyabrskaya railway branch) and the availability of free-of-development areas around the airfield open up broad prospects for its development in the interests of the military Department and the civil aviation market.