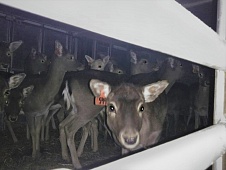 Oboronlogistics railway ferry Ambal, operating on the Ust-Luga — Baltiysk line, usually transports large-sized cargo and heavy equipment in the interests of the Russian defense Ministry, Rosgvardiya, the Military construction complex, as well as commercial customers. However, the ferry's capabilities make it possible to transport more sensitive cargo that requires a special approach during transportation.
In particular, on June 22, 2020, the Ambal ferry delivered a batch of agricultural breeding animals (cattle) from the Kaliningrad region. Animals were transported in the holds in cars accompanied by freight forwarders.
Ferry transportation is the most convenient and safe way to transport animals between the Kaliningrad and Leningrad regions of the Russian Federation. Transportation is carried out without transit through the territories of neighboring States. The flight time is about 40 hours. The port of Ust-Luga is located 150 kilometers from Saint Petersburg, and the port of Baltiysk is located 50 kilometers West of Kaliningrad. The ferry makes 5-6 round trips every month.
Previously, ferry has already transported animals in the interests of an agro-Industrial holding, a batch of red deers (more than 100 heads) from a nursery in the Kaliningrad region for nature reserves and farms in Russia, dolphins of LLC Circus of sea animal, circus animals of LLC GLAVTSIRK and LLC Circus world, including lions, bears, fur seals, monkeys, parrots, dogs, horses, ponies, elephants and camels. All of them were delivered on time and without complaints from the customer. It should be noted that the transportation of pets in the cabins of the ferry Ambal is prohibited.
Oboronlogistics LLC ensures constant and uninterrupted operation of the ferry line between Ust-Luga and Baltiysk, maintains its stability, competitiveness and cargo security. Oboronlogistics is trusted to transport its cargo along the Baltic ferry route by JSC Russian Post, JSC Russian Railways, PJSC LUKOIL, EUROCEMENT group holding, BALTService LLC, Baltika LLC, ZEBRA lines LLC, Miratorg agro-industrial holding and other customers.