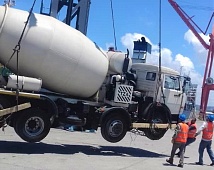 Oboronlogistics delivered the next batch of concrete mixers from Russia to Syria. Sea delivery was carried out by the ship Oboronlogistics LLC from the port of Novorossiysk to the Syrian port of Tartus.
The delivery of construction equipment is the result of joint work between Russian companies and the Ministry of public works and housing of the Syrian Arab Republic aimed at implementing agreements in the field of trade, economic, scientific and technical cooperation between the two countries.
Oboronlogistics LLC provides multimodal transportation under contracts with various commercial organizations interested in the supply of products and equipment for the reconstruction of the Syrian economy. Cargo delivery is carried out from manufacturers in Russia on road trucks and in containers to the port of Novorossiysk, where they are loaded on Oboronlogistics own vessels for shipment to the port of Tartus.
The next batch of construction equipment is planned to be sent in September-October 2020. Earlier, in 2019, Oboronlogistics already delivered a batch of concrete mixers, excavators, cable products, as well as a drilling station and a concrete plant to Syria.
In 2018, the Government of the Russian Federation decided to establish a special procedure for the arrival and departure from the territory of the Russian Federation of cargo transported by vessels of Oboronlogistics LLC within the framework of economic cooperation with interested States. This decision allowed Oboronlogistics to actively develop international projects, create favorable conditions for Russian business, increase exports and imports of goods and increase the volume of Russian transportation against the backdrop of increasing competition in the global logistics market.