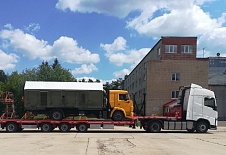 In June 2020 Oboronlogistics LLC delivered the AK-0,4-M1 aviation ground installation in the interests of Sukhoi Company PJSC from Zhukovsky (Moscow region) to the Sukhoi branch in Akhtubinsk (Astrakhan region).
Airfield air conditioner weighing more than 12 tons on the KAMAZ chassis is designed to create and maintain the specified climatic conditions inside the cockpit, cabin and compartments of aircraft (helicopters), as well as for ventilation, air conditioning and heating during ground handling and pre-flight training of aircraft.
Transportation of the air conditioner was carried out with the involvement of a low-frame car trawl using various types of rigging. The task was completed quickly, in a short time and without complaints from the customer. The specialists of Oboronlogistics were monitored during loading and unloading operations and the transportation of cargo on the whole route.
Oboronlogistics group of companies has been working in the structure of the Military construction complex of the Ministry of defense of the Russian Federation since 2015, providing accumulation, storage and transportation of cargo. Oboronlogistics successfully works with such state customers as the Russian foreign Ministry, Rostec, Rosoboronexport, Roscosmos, and others, and also interacts with a number of large commercial organizations.