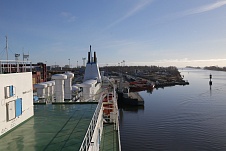 Since July 15, 2020, due to the cancellation by the governments of St. Petersburg and the Kaliningrad region of a number of restrictive measures introduced to prevent the spread of COVID-2019 coronavirus infection, passengers who have original certificates from medical institutions about the absence of infection issued at least a week before the start date of transportation are allowed to travel on the ferry Ambal.
The Ambal railway ferry, owned by Oboronlogistics LLC, is a cargo ferry adapted for transporting railway rolling stock and wheeled equipment. There are also comfortable cabins on the Ambal ferry. The ferry carries up to 12 passengers per trip, including cargo escorts, freight forwarders and drivers.
The ferry provides cargo delivery between Ust-Luga and the Baltic sea without passing through the territories of neighboring Baltic States. The flight time is about 40 hours. The weight of the cargo lot is on average 8,000 tons. The ferry makes 5-6 round trips per month.
By order of the Government of the Russian Federation, Oboronlogistics has been designated as the sole contractor for the procurement of works and services related to the delivery of cargo by sea to the territory of the Kaliningrad region for 2020 – 2021. Oboronlogistika is also regularly trusted to transport its cargo along the Baltic ferry route by organizations of the Military construction complex, JSC Russian Post, JSC Russian Railways, PJSC LUKOIL, EUROCEMENT group holding, LLC BALTService, LLC Baltika and other commercial customers.