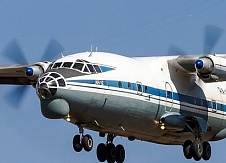 LLC OBL-SERVICE (a subsidiary of LLC Oboronlogistics) organized in July 2020 the delivery of more than 17 tons of essential goods and food for the residents of the village of Beluzhya Guba on Novaya Zemlya.
The flight on the route "Arkhangelsk-Novaya Zemlya-Arkhangelsk" was performed by an An-12 cargo aircraft. Organization of loading and unloading of cargo, as well as planning and provision of air transportation were carried out by LLC "OBL-SERVICE".
Air transportation of passengers and cargo between Arkhangelsk and the New Earth opened a "Oboronshchiki" in October 2017. The organization of air traffic is a starting point in solving a large-scale task to increase the transport accessibility of the Novaya Zemlya archipelago for military personnel, their families and other specialists engaged in the development of the Arctic zone of the Russian Federation.