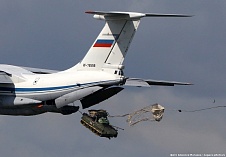 In July 2020, joint command and staff exercises of airborne troops and military transport aviation were held near Ryazan.
The exercise involved А-50U, Su-30 and Il-76 aircraft. The exercise was carried out the seizure of the airfield imaginary enemy, the destruction of air defense, drop landing teams, combat vehicles, simulation of landing Il-76 on the ground with the landing with the maximum descent gradient.
Landing of combat vehicles and simulating the landing of a heavy military transport aircraft on a limited runway are the most important moments of the exercise, requiring special piloting skills. Representatives of Oboronlogistics LLC as the organizers of air transportation on military transport aviation aircrafts highly appreciated the skill of the pilots.
Oboronlogistics LLC is an exclusive charterer of military transport aviation for the transportation of large-sized cargo, primarily products created within the framework of the state defense Order and military-technical cooperation of the Russian Federation with foreign partners.