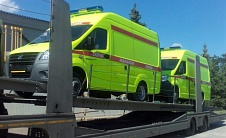 <br>
In August 2020, OBL-TRANS LLC (a subsidiary of Oboronlogistics LLC) transported five new emergency vehicles from the Moscow region to the cities of Ulan-Ude, Ussuriysk, Khabarovsk and Petropavlovsk-Kamchatsky for hospitals of the Russian defense Ministry.
Ambulances equipped with the latest technology are intended for carrying out medical measures by the resuscitation team, transporting and monitoring the condition of patients at the pre-hospital stage.
The cars were transported by car, and a ferry was used for delivery to Petropavlovsk-Kamchatsky. The task was completed, the specialists of OBL-TRANS were monitored during the transportation of cargo on the whole route.
Oboronlogistics group of companies has been working in the structure of the Military construction complex of the Ministry of defense of the Russian Federation since 2015, providing accumulation, storage and transportation of cargo. Oboronlogistics successfully works with such state customers as the Russian foreign Ministry, Rostec, Rosoboronexport, Roscosmos, and others, and also interacts with a number of large commercial organizations.