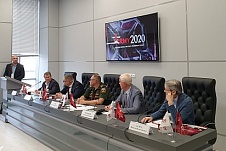 On August 25, during the business program of the international military-technical Forum Army-2020, Oboronlogistics took part in a round table on the topic: Modern and promising technologies of hydrometeorological support in the interests of troops (forces)".
The report «Situational center of LTD Oboronlogistics and its role in the delivery of material resources in the interests of Russian Defense ministry» was made by the Chief specialist of the Situation center Egor Barskov.
Oboronlogistics pays great attention to informational and technical support of transport and technological process automation. The situation and logistics center of Oboronlogistics is equipped with specialized equipment and hardware and software that solve these tasks at a high level.
The center analyzes factors that affect the logistics process: wind direction and speed, temperature, ice conditions, and others. All this allows you to build optimal routes taking into account the current navigation situation, as well as track the position of transport in real time.
The report aroused the interest of the participants of the round table. Topics for further cooperation in the field of data exchange are outlined. Based on the results of the report, it is planned to establish cooperation with the Federal state budgetary institution Hydrometeorological center of Russia and the Hydrometeorological service of the Armed Forces of the Russian Federation.