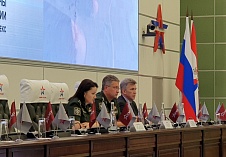 On August 26, during the fourth day of the business program of the international military-technical Forum Army-2020, a conference was held on the prospects for the development of the Military-construction complex of the Russian defense Ministry.
Oboronlogistics LLC has been actively working in the structure of the Military construction complex since 2015, providing facilities under construction, responsible for the delivery of materials, transportation and storage of cargo.
This year, Military construction complex has shown its special significance for the country and its ability to solve the most difficult tasks at the highest level. In the face of the pandemic, two dozen multi-functional medical centers were built across the country in a very short time.
Oboronlogistics, using the Ust-Luga – Baltiysk ferry line, delivered construction materials, vehicles and construction equipment for the construction of a new medical center of the Russian defense Ministry in the Kaliningrad region.
Taking into account the importance of the tasks performed by the Ambal ferry on the Ust-Luga — Baltiysk line, Oboronlogistics postponed the planned repair of the ferry in order to fully deliver construction materials.
In August 2020, Oboronlogistics organized the transportation of new resuscitation vehicles from the Moscow region for hospitals of the Russian defense Ministry in the cities of Ulan-Ude, Ussuriysk, Khabarovsk and Petropavlovsk-Kamchatsky.
As Deputy defense Minister of the Russian Federation T. V. Ivanov noted in his speech, the most important thing in construction is logistics. The availability of VSK's own resources, which can smoothly solve complex issues related to the supply of facilities under construction, plays a key role in the overall teamwork of the Russian defense Ministry's Military construction complex.