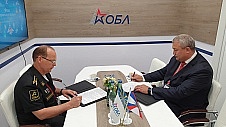 As part of the fifth day of the ARMY-2020 Forum, Oboronlogistics LLC, represented by Deputy General Director A. A. Krivonosov, and the Association for assistance to the implementation of the state defense order (ASVGOZ), represented by President A. G. Komissarov, signed a Protocol on Oboronlogistics's membership in the Association.
ASVGOZ was created to develop standards for the quality of services, protect the legal rights of members of the Association and form a market for responsible performers of state defense orders.
ASVGOZ is also a platform for finding solutions to systemic problems that exist in the legislation, taking into account the experience of the Association's participants.
Membership in the Association guarantees that the services will be performed by the contractor of the state defense order as professionally and profitably as possible for the customer.