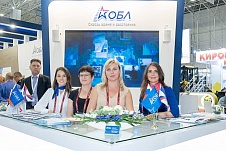 On August 29, 2020, the international military-technical Forum ARMY-2020 ended at the Patriot Convention and exhibition center.
Oboronlogistics highly appreciates the practical significance of its work at the ARMY-2020 Forum, thanks all the guests who visited the company's exhibition stand, and intends to expand fruitful cooperation with all interested organizations.
The stand of the Oboronlogistics Group of companies met the guests in pavilion D. Potential partner companies ' attention was drawn to the capabilities of the company's own fleet presented at the stand, cargo delivery to the Middle East and Mediterranean countries via the port of Novorossiysk, organization of air transportation around the world, work on the Northern sea route, as well as the presence of its own network of warehouse terminals throughout Russia. Many requests from potential customers related to the company's services in the field of road, container and oversized transportation.
Within the business program representatives of the Oboronlogistics took part in the round table discussion: "Modern and promising technologies of hydrometeorological support in the interests of troops (forces)" and in the conference of the Military construction complex of the Russian defense Ministry. On the sidelines of the Forum, Oboronlogistics signed a Protocol on joining the Association for assistance to the implementation of the state defense order.