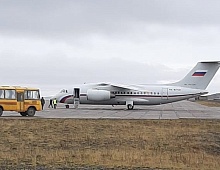 In September 2020 OBL-SERVICE LLC (a subsidiary of Oboronlogistics LLC) organized transportation of the group of employees of the Military construction complex working on the Novaya Zemlya archipelago.
Two flights were made on the route of Arkhangelsk-Novaya Zemlya-Arkhangelsk by an An-148 air passenger vessel belonging to the Russian defense Ministry. Flight planning, organization and provision of air transportation were carried out by LLC OBL-SERVICE, which is the exclusive charterer of military aircraft intended for the transportation of passengers and bulky cargo.
Air transportation between the Archangel and the New Earth ware open by Oboronlogistics in October 2017. The organization of air traffic is an important link in solving the large-scale task of increasing the transport accessibility of the Novaya Zemlya archipelago for military personnel, their families and specialists engaged in the development of the Arctic zone of the Russian Federation.