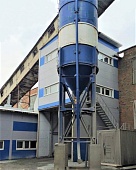 In a separate division of JSC 1470 UMTO the Concrete products Plant 350 in Vladivostok, the production of reinforced concrete products is being modernized. In September 2020, the first stage of modernization was completed – installation and commissioning of a new concrete mixing unit SmartBeton 40 with a capacity of up to 40 m3 per hour was completed.
The new SmartBeton 40 concrete mixing unit has an all-season version and is equipped with a set of additional humidity sensors for preparing the mixture. The supply of inert materials is carried out by a weight conveyor. Bins for storing inert materials are equipped with a heating system.
Since September 2020, the technological process of concrete production at Concrete products Plant 350 is managed in an automated mode using the Russian-made SmartMix software and hardware complex, the functionality of which allows you to keep an archive of the prepared mixture for 2 years with data on the production date and order completion time.
Implemented decisions of the management of JSC 1470 UMTO modernization of Concrete products Plant 350 at the first stage has allowed to improve the quality of concrete products, optimize processes and strengthen control over an expenditure of material, reduce labor, and improve working conditions of employees of Concrete products Plant 350.
Production and logistics company JSC 1470 Management of logistics Oboronlogistics Group of companies provides a full complex of services in safekeeping and handling of cargo (including loading-unloading, cross-docking, order picking and shipping teams cars, containers, trucks, shipping of heavy and oversized cargo, special equipment on railway platforms), the delivery from the warehouses processed and packaged goods to the final consumer, as well as production of furniture and concrete products. JSC 1470 UMTO owns warehouse complexes and port terminals throughout Russia.