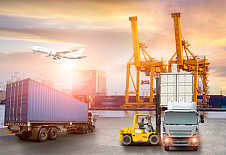 Despite the economic difficulties recognized by the world community, including those related to the pandemic, the results of Оboronlogistics ' activities in the first half of 2020 indicate that the company is working actively and steadily.
In 2020, Oboronlogistics LLC continues to develop services provided in all areas of activity (cargo delivery by sea, land transportation, air service), and also improves its own warehouse logistics. The volume of cargo transported increased compared to the same period in 2019.
The most positive dynamics were shown by sea transportation, including on the railway-ferry line, where the growth in traffic volume was 27 % compared to the same period last year.
In the context of the pandemic, the company promptly completed a number of important state tasks that require special urgency, in particular, the delivery of construction materials and construction equipment necessary for the construction of a new multifunctional medical center of the Russian Ministry of defense in the Kaliningrad region, and also promptly organized the transportation of new reanimobiles from the Moscow region for hospitals of the Russian Ministry of defense to the regions of the country.
The situation in 2020 showed that under any circumstances Oboronlogistics remains a reliable supplier and performer of transport and logistics services, which is trusted by both state customers and commercial partners. Our specialists provide high-quality and timely delivery of various types of cargo to any remote regions.
With technical and human resources and extensive experience, Oboronlogistics is interested in expanding the geography of transportation and increasing its own fleet. Currently, the company's vessels operate in the Eastern and southern directions, perform state tasks for Northern delivery, and also provide transportation of heavy and oversized cargo along the Northern sea route. In addition, oboronlogistics is currently working on the Possibility of expanding the air route network to new destinations in the Northern regions of Russia.