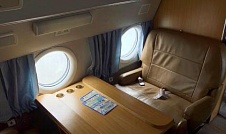 In 2020 Oboronlogistics continued the air transportation of passengers and cargo to Novaya Zemlya for the Military-construction complex of the Ministry of defence of the Russian Federation, including JSC "General Directorate of arrangement of troops", which specializes in sphere of building of housing, socially important and special objects of the defense Ministry of Russia.
Since the beginning of 2020, OBL-SERVICE LLC (a subsidiary of Oboronlogistika LLC) has delivered 324 passengers and more than 80 tons of cargo to Novaya Zemlya in the interests of the Military construction complex.
Flights on the Arkhangelsk – Novaya Zemlya – Arkhangelsk route are operated by the Tu-134A passenger plane. The Tu-134A modification has a comfortable interior and can accommodate from 30 to 60 passengers. Using the Tu-134A on the route allows you to guarantee the transportation of passengers and cargo. Currently, Tu-134A aircraft are mainly operated by the Aerospace forces.
In October 2020, three years have passed since the opening of Oboronlogistics flight connections between Arkhangelsk and Novaya Zemlya. The organization of air transportation is an important link in solving the large-scale task of increasing the transport accessibility of the Novaya Zemlya archipelago for military personnel, their families and specialists engaged in the development of the Arctic zone of the Russian Federation. Currently, the company is working on expanding the route network and opening new destinations in the Northern regions of Russia.