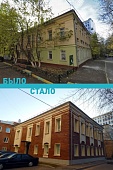 Oborologistics LLC completed overhaul of the building, located at the address: Moscow, Goncharnaya street, building 28A. The mansion built in 1902 is a classic example of Moscow city manor architecture and is located in the historical center of Moscow on the territory of the Federal archaeological heritage site "cultural layer of the "Earth city" (Skorodom) of the XVI-XVII centuries (territory of the zone of strict regulation of development No. 1). All repair work was coordinated with the Moscow architecture Department and made with maximum preservation of the exterior and facade of the building.
Initially, the two-story mansion was the parish house of the clergyman of the Church of Cosmas and Damian of Assyria in Starye Kuznetsy, demolished in 1939. Now on the site of the Church is a residential building built in 1953.
After 1917, the mansion was placed at the disposal of the Soviet military Department and later became the property of the Russian defense Ministry. The building was used as administrative and residential premises, including for families of senior officers of the armed Forces of the USSR. In the 1980s and 1990s it housed the medical laboratory. In the 2000s, the house was abandoned, was in disrepair and was not used.
In 2017, the Russian defense Ministry leased the building to Oboronlogistics LLC, which immediately began developing a reconstruction project and major repairs. Engineering networks and communications, the roof of the building and staircases were replaced, the ventilated facade was installed, and the surrounding area was landscaped. The interior decoration of the premises was made according to an individual design project.
Currently, the building houses the Situational logistics center of Oboronlogistics LLC, designed for information support of the company's daily activities, management of its own and attracted fleet and transportation performed by all types of transport.