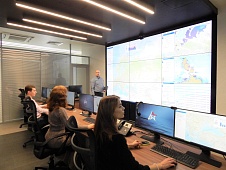 In 2020, in the context of the coronovirus pandemic, the Situational Logistics Center (SLC) of Oboronlogistics demonstrated its broad capabilities in conducting online events: video conferencing, webinars, and meetings.
On the basis of the technical means of the SLC in 2020, webinars of JSC Russian Railway were organized to train in the new platform of the electronic bill of lading system (ETRAN), interregional video conferences were held on the topic: "Coordination of a single technological process of interaction between participants in the transportation process for the delivery of goods using the Baltiysk-Ust-Luga railway and ferry service", participated in the X-th anniversary conference "Situation Centers: focus of cross-industry interests – 2020".
The SLC is designed for information support of the company's daily activities, coordination of transport and logistics operations, management of transportation, attracted and own fleet of the company. SLTS used Oboronlogistics in the framework of the organization and control of delivery of goods in points of the Arctic, Novaya Zemlya archipelago, Russian far East, the South, in the work of the ferry line Ust-Luga – Baltiysk, to account for and control the movement of container equipment Companies and subsidiaries.
In the work of the SLC, it is also possible to provide services to the customer's personal account, where information about all stages of transportation is displayed in real time. The activity of the SLC Oboronlogistics LLC is an important component of the process of digitalization of the transport industry.