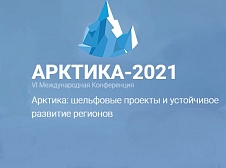 Representatives of the Oboronlogistics LLC take part in the VI International conference: Arctic shelf projects and sustainable development of the regions, held in the chamber of Commerce of the Russian Federation in Moscow on March 3-4, 2021.

The conference program covers important issues of socio-economic development of the Arctic zone of the Russian Federation (AZFR), special attention is paid to the development of digitalization and transport infrastructure.

On March 3, within the framework of the conference, specialists of Oboronlogistics participated in the round table: Development of the transport infrastructure of the Russian Arctic. Transport plays an important role in all spheres of social and economic activity in the Arctic and is influenced by a number of factors, including natural and climatic, which both stimulate and complicate its development.

The round table discussed such issues as the aviation accessibility of the Russian Arctic, the development of aircraft construction for the needs of the Arctic, new approaches in the design, reconstruction and operation of airports and airfields in the northern regions of Russia, as well as the possibility of using dual-use airfields.

Oboronlogistics LLC has extensive experience in performing air transportation to the Far North. Since October 2017 Oboronlogistics has been providing cargo and passenger flights between Arkhangelsk and Novaya Zemlya on a regular basis. Currently, the company is working on expanding the route network and opening new destinations in the northern regions.

Oboronlogistics LLC is going to create its own fleet of passenger and cargo aircraft with technical characteristics that will allow flights to insufficiently prepared runways of northern airfields, in particular, new turboprop aircraft IL-114-300, L-610, Baikal and others are being considered.

The conference is also attended by representatives of the Federal Assembly of the Russian Federation, state authorities, major Russian and foreign companies in the oil and gas industry and related industries, business representatives, as well as delegates from scientific, research and design institutes and organizations.