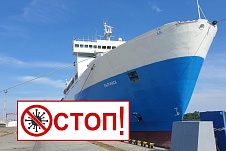 Due to the fact that the situation with the coronavirus infection in Russia and in the world remains tense, Oboronlogistics LLC continues to comply with restrictive measures and epidemiological requirements of the Russian Federation on all ships of the company.
When ships of the company enter ports, crew dismissals on shore are restricted (or prohibited, depending on the level of risk), as well as interaction between ship and shore personnel. Regular disinfection and cleaning are carried out on board, antiseptics and personal protective equipment are used.
In addition, outsiders are not allowed on the vessels of Oboronlogistics. An exception is made for the Ambal and Baltiysk ferries, which allow the transportation of persons accompanying cargo and vehicles, subject to certain conditions.
In order to prevent infection of the crew members of the Ambal and Baltiysk ferries, it is allowed to accompany cargo only to those who have laboratory tests for the detection of COVID-19 RNA with negative results, conducted no more than 3 days before the start of sea transportation.
The presence of a certificate of vaccination against coronavirus infection is not a sufficient reason for the carriage of passengers without PCR tests!