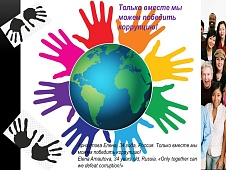 In 2021 Oboronlogistics traditionally provides information support to the annual International Youth competition of social Anti-corruption advertising "Together against Corruption!".
The competition is organized by the Prosecutor General's Office of the Russian Federation. The contest is co-organized by the participants of the Interstate Council for Combating Corruption and the BRICS.
The event is held to attract public attention to the problem of corruption. Among the main tasks — educational and preventive activities, the formation in society of an intolerant attitude to corruption manifestations and confidence in the anti-corruption activities of the prosecutor's office and other state bodies.
The organizers of the competition focus on the need to form the practice of interaction between the society and the bodies engaged in the fight against corruption, as well as the development of effective social anti-corruption advertising designed to increase the literacy of the population.
Works are accepted from May 1 to October 1, 2021 in two categories-social poster and social video. Young people between the ages of 14 and 35 are invited to participate. Entries are accepted in the languages of the United Nations: Arabic, Chinese, English, French, Russian, Spanish. The results will be announced on December 9 — the International Anti-Corruption Day.
Acceptance of works, technical requirements and rules of the competition are on its official website:
https://anticorruption.life/