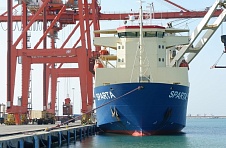 Exactly five years ago – on December 23, 2016, a regular shipping line connecting the ports of Novorossiysk (Russia) and Tartus (Syria) was launched.
For five years, the vessels of Oboronlogistics LLC operating on the line have made hundreds of trips, delivered tens of thousands of tons of cargo, including humanitarian aid for the Syrian Arab Republic.
The line is intended for the transportation of goods of various departments, companies and enterprises interested in the supply of products to the Syrian Arab Republic (industrial equipment, food, construction and road equipment). In the opposite direction, light industry goods and agricultural products, including fruits and fertilizers, are coming from Syria.
Transportation is the result of joint work of Russian and Syrian companies to restore the Syrian economy and implement agreements in the field of trade and economic cooperation between the two countries, in particular in the construction and agricultural sector.
Modern universal bulk carriers of Oboronlogistics LLC of the RO-RO/LO-LO type operate on the line. The passage time of vessels along the route is 7 days. In order to ensure optimal loading of ships and the safety of cargo, Oboronlogistics uses its own container fleet consisting of more than 1,500 units of containers of various types.
In 2018, the Government of the Russian Federation established a special procedure for arrival to and departure from the territory of Russia for cargo transported by ships of Oboronlogistics LLC on the line.
The presence of its own transport and logistics infrastructure and a customs control zone in Novorossiysk allows Oboronlogistics to create favorable conditions for increasing exports/imports of goods between Russia and the Middle East region.