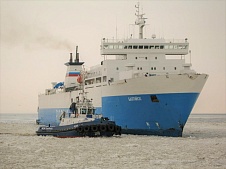 A strong storm provoked by three powerful cyclones, which raged all last week on the Baltic and the coast of the Kaliningrad region, caused difficulties in the operation of the port of Baltiysk, in connection with which there were changes in the schedule of the railway ferries of Oboronlogistics LLC Ambal and Baltiysk, engaged on the Ust-Luga - Baltiysk railway ferry line.
Currently, the ship schedule has been restored, the line is operating as usual, the ferries have started their regular flights without delay.
The safety Management System (SUB) of ferries complies with the requirements of the International Code for the Management of Safe Operation of Ships and Pollution Prevention (ISM Code). The crews, under the guidance of experienced captains, follow all the proper instructions, maintain the proper operation of the vessels, comply with the rules of safe operation and prevention of environmental pollution.
Cargo ferries Ambal and Baltiysk are designed for the transportation of railway rolling stock and wheeled vehicles. The weight of a cargo batch of one ferry is up to 8,000 tons.
Ferry transportation is the most convenient way to transport rail and oversized cargo between the Kaliningrad and Leningrad regions of the Russian Federation, bypassing the territories of limitrophs. The ferry journey time is about 40 hours. Every month, one ferry makes 5-6 round trips.
Among the regular shippers of the line: the Ministry of Defense of Russia, Rosgvardiya, the Military Construction Complex of the Ministry of Defense of Russia, JSC Russian Railway, PJSC LUKOIL, LLC Avtotor Holding, Holding Eurocement Group, GC Commonwealth and other customers.