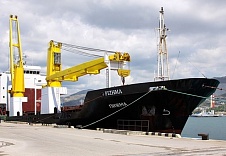 In February 2022, the cargo ship Pizhma, owned by Oboronlogistics, delivered the first batch of lumber intended for the restoration of the civil infrastructure of the Syrian Arab Republic from Novorossiysk to the Syrian port of Tartus.

Due to climatic features, forests occupy only about 3% of the territory of Syria. In the conditions of the post-war economic recovery of the country, the demand for lumber is growing noticeably.

Deliveries of construction materials are the result of joint activities of Russian companies and Syrian companies aimed at implementing agreements in the field of trade and economic cooperation between the countries.

Previously, Oboronlogistics delivered construction equipment, electrical equipment, cables, equipment for the repair and restoration of the oil and gas complex, as well as fuel and lubricants to Syria. In the opposite direction, light industry goods and agricultural products, including fruits and fertilizers, are coming from Syria.

In 2018, the Government of the Russian Federation decided to establish a special procedure for the arrival and departure from the territory of the Russian Federation of cargo transported by ships of LLC Oboronlogistics within the framework of economic cooperation with interested states. This solution makes it possible to create favorable conditions for Russian business and the growth of Russian traffic in the Middle East.

The universal cargo ship Pizhma is certified for the transportation of goods of all hazard classes. The ship has a deck for containers and general cargo and two holds. At maximum load, the vessel can deliver up to 4,000 tons per voyage. The displacement of the vessel is 6,325 tons, the speed is 15 knots. The home port is Novorossiysk.