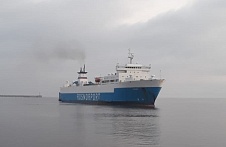 Due to technical problem, that occurred on February 4, 2022, Baltiysk ferry was forced to stay in the port of Ust-Luga. The problems were related to the operation of the freight elevator. Oboronlogistics has taken all necessary measures. Currently, the elevator repair is completed, the ferry is heading to the port of Baltiysk and will arrive there approximately on February 12.
The Baltiysk ferry, built in 1984, is leased from Oboronlogistics LLC for a period of 5 years under a bareboat charter agreement from December 2020 and is the "twin" of the Ambal ferry, which is part of Oboronlogistics' own fleet. In May 2021, the Ambal ferry underwent scheduled repairs. In turn, Baltiysk is not the property of Oboronlogistics and requires constant support of its technical serviceability.
Ferries Ambal and Baltiysk have a special design for the transportation of railway trains, which are placed on three cargo decks. Each cargo deck is equipped with five tracks. Loading of trains on ferries is carried out through the aft gate to the middle deck. The lifting and lowering of railway cars and other rolling loads from the middle deck to the upper and lower is carried out by a two-tier elevator.
Oboronlogistics constantly monitors the condition of both vessels to ensure the smooth functioning of the Ust-Luga – Baltiysk railway ferry line. The vessel traffic schedule has been restored, and the line is operating normally.