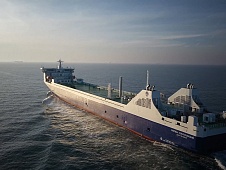 On March 4, 2022 a ceremony of raising the Flag of the Russian Federation on the railway ferry Marshal Rokossovsky took place in Ust-Luga. After that the new vessel entered the Ust-Luga – Baltiysk line.

LLC Oboronlogistics as the operator of the line and cargo agent of the new ferry supplied it with cargo for the first voyage. Marshal Rokossovsky will deliver wagons with steel pipes, as well as rolling machinery and trucks with construction materials, consumer goods (including food), electrical equipment.

The launch of the third ferry Marshal Rokossovsky will increase the range of goods and the volume of transportation for the life support of the Kaliningrad region.

The loading of ferries will be organized on the principle of a single window: cargo, wagons and rolling equipment will be distributed to the nearest scheduled ferry. It will help to reduce delivery times and maximize the efficient use of the ferry fleet's transportation capabilities.
In 2022, the fourth railway ferry General Chernyakhovsky is expected to enter the line. Oboronlogistics is also defined as it's cargo agent.

The Ust-Luga - Baltiysk ferry line is the only transport artery between the Kaliningrad Region and the main territory of the country, allowing cargo to be delivered, bypassing the territory of limitrophs. In the conditions of new economic challenges and threats, the uninterrupted operation of the Ust-Luga – Baltiysk railway ferry line is one of the priorities of Oboronlogistics LLC.