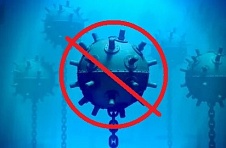 Due to the threat of mines, Oboronlogistics LLC is taking all necessary measures to ensure the safe navigation of its vessels in the waters of the Black and Mediterranean Seas.

Thus, the company, together with the Ministry of Defense of Russia, has developed an instruction for the captains of ships transiting from the port of Novorossiysk to destination ports through the Black Sea Straits.

In particular, the instruction requires the captains of Oboronlogistics vessels to ensure:

visual observation of the marine area for the absence of floating objects along the transit route and in parking areas;

reception and analysis of information sent in the navigation warning system (NAVAREA, NAVIP, PRIP) to all shipowners and ship captains in the region.

For reference:

NAVAREA is the world navigation warning service, designed to unify the system for transmitting navigation and meteorological information in order to ensure the safety of navigation on the high seas. Ensures coordination of the transmission of navigation warnings by radio by all maritime countries.

NAVIP – navigation warnings containing urgent information regarding the safety of navigation. They are transmitted by radio by the Russian Navigation Accident Warning System within the framework of the national navigation warning system to the coastal waters of foreign States and the waters of the open sea. They contain information that is not included in NAVAREA. The source of information is foreign notices to seafarers, manuals, manuals and maps for navigation, as well as seafarers' reports.

PRIP – coastal warnings, announced by the regional coordinator for the areas of coastal waters of Russia.

In addition, the captains of ships and employees of the dispatching services of Oboronlogistics were informed about the telephones of emergency and special services in the regions of navigation.