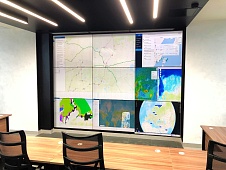 Oboronlogistics LLC pays great attention to digital and visual support of transportation. For this purpose, the company uses Situational and Logistics Center (SLC). The work of SLC is based on its own developments, as well as equipment and software of other Russian companies.
This guarantees the safe functioning of the SLC in the face of sanctions and various restrictions from Western manufacturers, and also meets the main directions of the state import substitution program.
The unique domestic software product allows to automate the work of accepting applications for cargo delivery, processing source data, selecting the necessary vessel, as well as collecting information about the weather, ice conditions, changes in conditions in ports, etc.
The capacities of the SLC are used by Oboronlogistics to track the movement of ships, container fleet and cargo, coordinate transport and logistics operations, manage transportation performed by its own and attracted fleet. SLC allows to display information about all stages of transportation online. It is especially important to attract the capacities of the SLC as part of the delivery of goods to the Arctic points.
Oboronlogistics continues to expand the functionality of the SLC software product. The company's vessels have the latest technical means installed that allow processing and transmitting messages about the status and current activities of the crews and the vessels themselves through various types of communication.