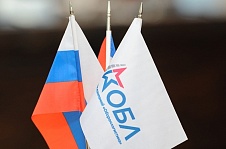 In April 2022, the Government Commission for Improving the Sustainability of the Development of the Russian Economy in the face of sanctions included Oboronlogistics LLC in the list of system-forming organizations of the Russian economy in the field of maritime cargo transport.

Oboronlogistics has its own fleet of 7 sea vessels, is a cargo agent of ferries delivering cargo to the Kaliningrad region. Сompany's vessels are actively operating in the Arctic, Asia and the Middle East, including the delivery of heavy and oversized cargo. Oboronlogistics regularly fulfills its obligations to customers and partners, improves the quality of services provided. In the long-term plans of the company to continue to increase the customer base, increase the volume and expand the geography of transportation.

System–forming enterprises (SOP) are socially and state-significant organizations that have a significant impact on the development of the country's economy, provide the greatest employment in their industries and are large taxpayers. SOP services and products are important for the life support of a particular territory or industry. These enterprises can apply for preferential lending, expect to receive state guarantees for investment projects, debt refinancing.