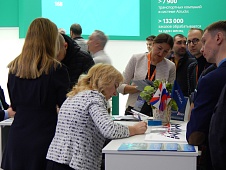 On April 14, 2022, the 26th International Exhibition of Transport and Logistics Services, Warehouse Equipment and Technologies TransRussia 2022 was over.

The exhibition was attended by 245 companies from 16 countries, including Azerbaijan, Belarus, India, Iran, Kazakhstan, Cyprus, China, Latvia, Turkey, Uzbekistan, South Korea. Over three days, the event was attended by about 20 thousand specialists — representatives of manufacturing and trading enterprises, transport and logistics companies.

All participants of the exhibition, without exception, noted its relevance and high productivity, as well as the general mood for dialogue and openness. This is due to the recovery of the industry after the pandemic and at the same time with the emergence of new geopolitical threats that have disrupted logistics chains.

The title of one of the closing sessions of the business program largely reflects the main message of the entire event: "Logistics under sanctions: how cargo will go, sail and fly." According to the speakers, cargo owners, shippers, transport companies actively entered the market in search of solutions. At the same time, the choice of shippers increasingly stops at domestic transport companies. New transport chains and routes through transit countries are being formed.

The stand of Oboronlogistics presented a wide range of logistics services. The potential partners' attention was attracted by the capabilities of Oboronlogistics' own fleet, consisting of 7 naval vessels of various classes. Shippers were particularly interested in: the Ust-Luga – Baltiysk railway ferry line and the Novorossiysk-Tartus regular line, the elaboration of the issue of launching a new line to Turkey, cargo delivery along the Northern Sea Route, transportation to the Far East and the Arctic zone, the availability of its own container fleet, a network of warehouse terminals and IT solutions for transport.

On the sidelines of the forum, the management of Oboronlogistics held a number of meetings with partners and clients, discussing the prospects for further mutually beneficial cooperation, including with the companies of JSC Sovfracht, MA Silmar. Issues of joint work on existing and new projects were discussed. The parties agreed to provide mutual services and exchange information. According to the heads of the companies, this will contribute to the improvement of the multimodal and project transportation system.

Oboronlogistics LLC highly appreciates the practical significance of the company's work at the TransRussia exhibition, thanks the organizers, partners, colleagues, media representatives and all guests of the exhibition who visited the company's stand, and intends to expand further fruitful cooperation with all interested organizations.

The next TransRussia 2023 exhibition is scheduled for April 17-19, 2023 in Moscow at the Crocus Expo IEC. Preparations are already underway.

See you at TransRussia in 2023!