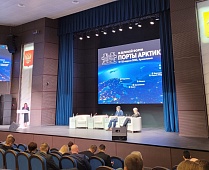 Representatives of Oboronlogistics LLC take part in the third business forum Ports of the Arctic, dedicated to the development of the transport system of the northern regions of Russia.

The main topics of the Forum, held on April 21-22, 2022 in Arkhangelsk, were the development of the port infrastructure of the Arctic zone of the Russian Federation, promising projects in the Arctic, the construction of terminal and industrial logistics complexes, the formation of new cargo flows, trends and experience in the application of management, operational and technical solutions, etc.

Specialists of Oboronlogistics note the practical significance of the forum and are ready to present their solutions for the organization and optimization of cargo logistics in the northern latitudes.

The discussion platform of the Forum brought together representatives of the largest transport and logistics companies, shipowners, operators of transport, fishing and icebreaking fleets operating in the Arctic, representatives of oil and gas operators, as well as cargo owners engaged in transportation along the Northern Sea Route, representatives of federal and regional executive authorities.

During last year's navigation, Oboronlogistics vessels delivered more than 45 thousand tons of cargo to Arctic points for the Military Construction Complex of the Russian Defense Ministry, oil and gas complex organizations and others engaged in the development of the Arctic and the construction of industrial and social infrastructure facilities in the Arctic zone of the Russian Federation.
To organize and control the delivery of goods to the Arctic points, Oboronlogistics uses the software and hardware of the company's own Situational Logistics Center (SLC) in its work. Oboronlogistics coordinates transport and logistics operations, manages its own and attracted fleet, keeps records and controls the movement of container equipment.