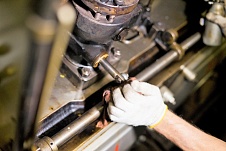 Since April 28, 2003, the International Labor Organization annually celebrates World Day for Safety and Health at Work. In many countries this day aimed at drawing the attention of employees to unresolved labor protection problems, the risks of getting diseases and injuries at work.

The working conditions at Oboronlogistics LLC comply with state standards. In accordance with the requirements of the Labor Code of the Russian Federation and Federal in order to ensure safe working conditions for employees of Oboronlogistics, a special assessment of working conditions is regularly carried out on ships and in the Company's offices.

assessment of working conditions is carried out at least once every 5 years and includes a set of measures to identify harmful or dangerous factors of the production environment and the labor process, assess their impact and the use of protective equipment for the employee. All workplaces without exception are subject to a special assessment of working conditions.

Every employee can contribute to the fight against injuries and accidents in the workplace to ensure healthy working conditions and prosperity of the organization. To do this, it is necessary: to comply with safety rules, not to expose yourself and colleagues to unreasonable risk, to know your rights, to participate in the implementation of preventive measures, to rationalize and optimize the processes of work.