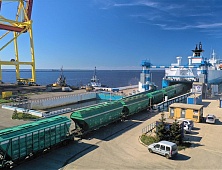 Due to the difficult geopolitical situation, changes in logistics and a significant increase in the demand for building materials in March 2022, there was a shortage of cement in the Kaliningrad region.
In April 2022 The Government of the Kaliningrad Region held a regular meeting on the supply of cement to the territory of the Kaliningrad Region with the participation of specialists from Oboronlogistics LLC, Russian Railways, EUROCEMENT Group holding and regional enterprises of the region.
Following the meeting, Oboronlogistics LLC, despite the overall growth in traffic volume and the increasing load on the Ust-Luga – Baltiysk railway ferry line, took all necessary measures and found an opportunity to increase regular cement shipments on the Ambal, Baltiysk and Marshal Rokossovsky ferries.
In March-April 2022, about 600 wagons with cement were sent through the ferry line for consumers of the Kaliningrad region. At the moment, according to the Governor of the Kaliningrad region Anton Alikhanov, the situation with cement in the region has normalized, while supplies are both ferries and railways.