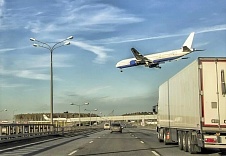 In May 2022 Oboronlogistics delivers in the interests of the Ministry of Defense of the Russian Federation to the regions of Russia and CIS countries a batch of special products for the diagnosis of a new coronavirus infection COVID-19.

Delivery is carried out by air and road transport on a door-to-door basis: from the manufacturer's warehouse to military units. Delivery covers about 100 items. The total weight of the batch is more than 50 tons.

Specialists of the company control the transportation of cargo on its way from the Moscow region to its destination, and also ensure that all necessary customs procedures are carried out.

Earlier, the specialists of the Oboronlogistics Group have already completed a number of tasks for the delivery of various medical equipment, resuscitation vehicles and artificial lung ventilation (ventilator) devices to the regions of the country.

The main advantages of multimodal transportation performed by Oboronlogistics Group are the efficiency of transportation, the possibility of door-to-door delivery of goods, a full range of logistics services, including freight forwarding services inside and outside the Russian Federation.

In addition to the transportation of military products in the interests of the Russian Ministry of Defense, subordinate organizations and enterprises of the military-industrial complex, Oboronlogistics Group performs multimodal transportation on a commercial basis, including medicines, perishable products and other goods requiring special storage and transportation conditions.