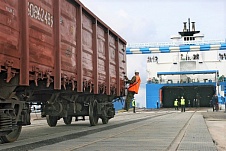 In May 2022, the Ust-Luga – Baltiysk railway ferry line retains the maximum indicators for the number of transported goods.
The ferries Ambal, Baltiysk and Marshal Rokossovsky delivered 1,285 wagons (75,607 tons of cargo) to Kaliningrad, including: 9,600 tons of fertilizers, 1,960 tons of food, 10,313 tons of cement, 7,200 tons of steel pipes, 36,000 tons of fuel, 429 units of rolling equipment (5,700 tons) and other goods necessary to ensure the vital activity of the Kaliningrad region.
For comparison, in April 2022, ferries transported 1,249 wagons (75,200 tons of cargo) and 535 units of rolling equipment (7,540 tons) to Kaliningrad.
Oboronlogistics LLC constantly monitors the loading and schedule of railway ferries. Cargo, wagons and rolling equipment are distributed to the nearest ship arriving according to the schedule.
In addition, at the end of April 2022, the universal bulk carrier mOboronlogistics Ursa Major entered the line, designed for the transportation of goods of various classes: general cargo (including oversized), containers, heavy equipment (cars, etc.).
The Ust-Luga – Baltiysk ferry line is the only transport artery between the Kaliningrad Region and the main territory of the country, allowing cargo to be delivered, bypassing the territory of limitrophs. In the conditions of new economic challenges, the uninterrupted operation of the Ust-Luga – Baltiysk railway ferry line is one of the priorities of Oboronlogistics LLC.