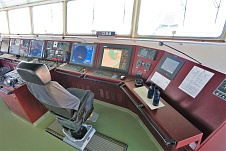 In accordance with the requirements of the Federal Law On Special Assessment of Working Conditions No. 426-FL and in order to ensure the safety of employees, a special assessment of working conditions (SAWC) was carried out on the vessels of Oboronlogistics LLC: Sparta, Sparta II and Ursa Major.
SAWC was carried out by a specialized organization (certificate of accreditation of the testing laboratory RA.RU.21EM46 dated 15.07.2015). The results of the inspection showed that the working conditions at these facilities comply with the state regulatory requirements for labor protection.
Information about the SAWC was entered into the Federal State Information System for Recording the results of a special assessment of working conditions on May 25, 2022. The identification number of the report 531984.
SAWC includes a set of measures to identify harmful or dangerous factors of the production environment and the labor process, assess their impact and the use of protective equipment for the employee. All workplaces without exception are subject to a special assessment of working conditions. The assessment is held at least once every 5 years.
The ships Sparta, Sparta II and Ursa Major are modern universal bulk carriers of the RO-RO/LO-LO class (horizontal and vertical loading), designed for the transportation of goods of various classes: general cargo (including oversized), containers, heavy machinery (cars, etc.). The vessels are capable of developing speed up to 14 knots. Each vessel is equipped with two cargo cranes, which makes it possible to carry out loading and unloading operations independently.