Ferry transportation
Operates on Kerch and Baltic ferry lines.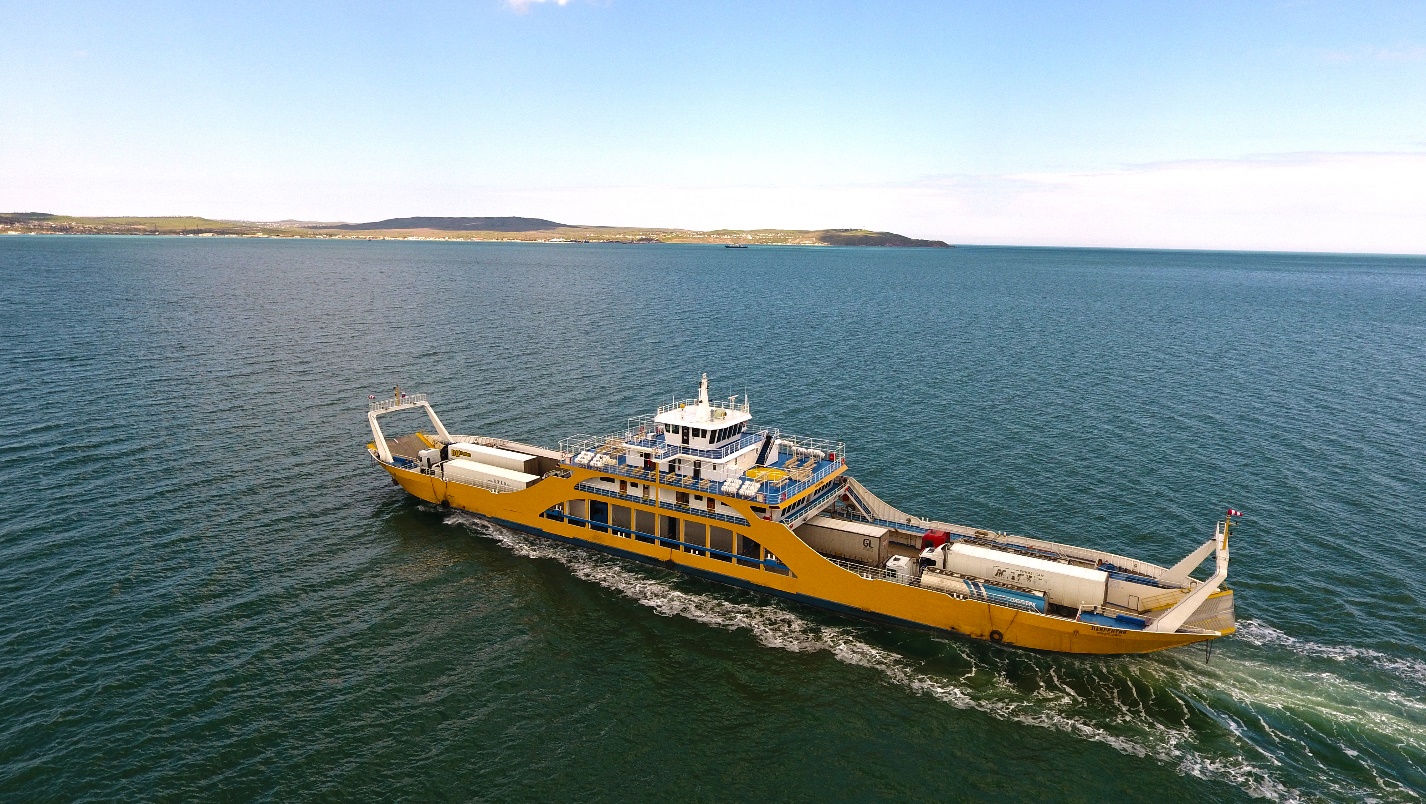 Two modern ferries Lavrentiy and Maria owned by Oboronlogistika perform trips every 2 hours between the ports of Caucasus and Crimea. The trip will take about one hour plus another 20-30 minutes for cargo operations. Each ferry can carry 918 passengers (532 for wintertime), 348 cars and 44 standard trucks.
Baltic ferry Ambal operating on the rout Ust-Luga ( 150 km from St. Petersburg) – Baltiysk which is a part of the big route East-West (Ust-Luga – Baltiysk – Sassnitz and Ust-Luga – Baltiysk – Kiel) can carry up to 112 rail carriages, cars and standard trucks. Full load capacity is 8 Th. t. Ambal is the only ferry on the rout, which can transport large fuel railway tanks. The trip Ust-Luga – Baltiysk will take 38 hours. Ambal can carry up to 6-7 round trip per month.
Services
Array
(
    [0] => Array
        (
            [ID] => 101
            [~ID] => 101
            [IBLOCK_ID] => 11
            [~IBLOCK_ID] => 11
            [IBLOCK_SECTION_ID] => 
            [~IBLOCK_SECTION_ID] => 
            [NAME] => Морские перевозки
            [~NAME] => Морские перевозки
            [ACTIVE_FROM] => 
            [~ACTIVE_FROM] => 
            [TIMESTAMP_X] => 07/06/2017 03:50:08 pm
            [~TIMESTAMP_X] => 07/06/2017 03:50:08 pm
            [DETAIL_PAGE_URL] => /en/services/
            [~DETAIL_PAGE_URL] => /en/services/
            [LIST_PAGE_URL] => /en/services/
            [~LIST_PAGE_URL] => /en/services/
            [DETAIL_TEXT] => 
            [~DETAIL_TEXT] => 
            [DETAIL_TEXT_TYPE] => text
            [~DETAIL_TEXT_TYPE] => text
            [PREVIEW_TEXT] => Создание оптимальной схемы логистики для ваших потребностей.


            [~PREVIEW_TEXT] => Создание оптимальной схемы логистики для ваших потребностей.

            [PREVIEW_TEXT_TYPE] => text
            [~PREVIEW_TEXT_TYPE] => text
            [PREVIEW_PICTURE] => Array
                (
                    [ID] => 378
                    [TIMESTAMP_X] => 04.07.2017 17:21:00
                    [MODULE_ID] => iblock
                    [HEIGHT] => 369
                    [WIDTH] => 591
                    [FILE_SIZE] => 392958
                    [CONTENT_TYPE] => image/png
                    [SUBDIR] => iblock/be6
                    [FILE_NAME] => be65034fd76abca5d33d52af731fd5db.png
                    [ORIGINAL_NAME] => e91f5e6123a876489f910b0878b83161.png
                    [DESCRIPTION] => 
                    [HANDLER_ID] => 
                    [EXTERNAL_ID] => ce97545697324f51029c912f30f3558b
                    [~src] => 
                    [SRC] => /upload/iblock/be6/be65034fd76abca5d33d52af731fd5db.png
                    [UNSAFE_SRC] => /upload/iblock/be6/be65034fd76abca5d33d52af731fd5db.png
                    [SAFE_SRC] => /upload/iblock/be6/be65034fd76abca5d33d52af731fd5db.png
                    [ALT] => Морские перевозки
                    [TITLE] => Морские перевозки
                )

            [~PREVIEW_PICTURE] => 378
            [LANG_DIR] => /en/
            [~LANG_DIR] => /en/
            [SORT] => 100
            [~SORT] => 100
            [CODE] => 
            [~CODE] => 
            [EXTERNAL_ID] => 101
            [~EXTERNAL_ID] => 101
            [IBLOCK_TYPE_ID] => services
            [~IBLOCK_TYPE_ID] => services
            [IBLOCK_CODE] => banners
            [~IBLOCK_CODE] => banners
            [IBLOCK_EXTERNAL_ID] => 
            [~IBLOCK_EXTERNAL_ID] => 
            [LID] => s2
            [~LID] => s2
            [EDIT_LINK] => 
            [DELETE_LINK] => 
            [DISPLAY_ACTIVE_FROM] => 
            [IPROPERTY_VALUES] => Array
                (
                )

            [FIELDS] => Array
                (
                )

            [PROPERTIES] => Array
                (
                    [URL] => Array
                        (
                            [ID] => 16
                            [TIMESTAMP_X] => 2017-06-30 13:58:49
                            [IBLOCK_ID] => 11
                            [NAME] => Ссылка
                            [ACTIVE] => Y
                            [SORT] => 500
                            [CODE] => URL
                            [DEFAULT_VALUE] => 
                            [PROPERTY_TYPE] => S
                            [ROW_COUNT] => 1
                            [COL_COUNT] => 30
                            [LIST_TYPE] => L
                            [MULTIPLE] => N
                            [XML_ID] => 
                            [FILE_TYPE] => 
                            [MULTIPLE_CNT] => 5
                            [TMP_ID] => 
                            [LINK_IBLOCK_ID] => 0
                            [WITH_DESCRIPTION] => N
                            [SEARCHABLE] => N
                            [FILTRABLE] => N
                            [IS_REQUIRED] => N
                            [VERSION] => 1
                            [USER_TYPE] => 
                            [USER_TYPE_SETTINGS] => 
                            [HINT] => 
                            [PROPERTY_VALUE_ID] => 52
                            [VALUE] => /services/sea/
                            [DESCRIPTION] => 
                            [VALUE_ENUM] => 
                            [VALUE_XML_ID] => 
                            [VALUE_SORT] => 
                            [~VALUE] => /services/sea/
                            [~DESCRIPTION] => 
                            [~NAME] => Ссылка
                            [~DEFAULT_VALUE] => 
                        )

                    [TITLE_EN] => Array
                        (
                            [ID] => 17
                            [TIMESTAMP_X] => 2017-07-03 14:40:53
                            [IBLOCK_ID] => 11
                            [NAME] => Название_EN
                            [ACTIVE] => Y
                            [SORT] => 500
                            [CODE] => TITLE_EN
                            [DEFAULT_VALUE] => 
                            [PROPERTY_TYPE] => S
                            [ROW_COUNT] => 1
                            [COL_COUNT] => 30
                            [LIST_TYPE] => L
                            [MULTIPLE] => N
                            [XML_ID] => 
                            [FILE_TYPE] => 
                            [MULTIPLE_CNT] => 5
                            [TMP_ID] => 
                            [LINK_IBLOCK_ID] => 0
                            [WITH_DESCRIPTION] => N
                            [SEARCHABLE] => N
                            [FILTRABLE] => N
                            [IS_REQUIRED] => N
                            [VERSION] => 1
                            [USER_TYPE] => 
                            [USER_TYPE_SETTINGS] => 
                            [HINT] => 
                            [PROPERTY_VALUE_ID] => 62
                            [VALUE] => Maritime transportation
                            [DESCRIPTION] => 
                            [VALUE_ENUM] => 
                            [VALUE_XML_ID] => 
                            [VALUE_SORT] => 
                            [~VALUE] => Maritime transportation
                            [~DESCRIPTION] => 
                            [~NAME] => Название_EN
                            [~DEFAULT_VALUE] => 
                        )

                    [PREVIEW_TEXT_EN] => Array
                        (
                            [ID] => 18
                            [TIMESTAMP_X] => 2017-07-03 14:41:09
                            [IBLOCK_ID] => 11
                            [NAME] => Описание_EN
                            [ACTIVE] => Y
                            [SORT] => 500
                            [CODE] => PREVIEW_TEXT_EN
                            [DEFAULT_VALUE] => Array
                                (
                                    [TYPE] => TEXT
                                    [TEXT] => 
                                )

                            [PROPERTY_TYPE] => S
                            [ROW_COUNT] => 1
                            [COL_COUNT] => 30
                            [LIST_TYPE] => L
                            [MULTIPLE] => N
                            [XML_ID] => 
                            [FILE_TYPE] => 
                            [MULTIPLE_CNT] => 5
                            [TMP_ID] => 
                            [LINK_IBLOCK_ID] => 0
                            [WITH_DESCRIPTION] => N
                            [SEARCHABLE] => N
                            [FILTRABLE] => N
                            [IS_REQUIRED] => N
                            [VERSION] => 1
                            [USER_TYPE] => HTML
                            [USER_TYPE_SETTINGS] => Array
                                (
                                    [height] => 200
                                )

                            [HINT] => 
                            [PROPERTY_VALUE_ID] => 63
                            [VALUE] => Array
                                (
                                    [TEXT] => We  develop the best logistical schemes meeting any requirement. We provide the full range of transport and  related services in cargo delivery and customs brokerage.
                                    [TYPE] => TEXT
                                )

                            [DESCRIPTION] => 
                            [VALUE_ENUM] => 
                            [VALUE_XML_ID] => 
                            [VALUE_SORT] => 
                            [~VALUE] => Array
                                (
                                    [TEXT] => We  develop the best logistical schemes meeting any requirement. We provide the full range of transport and  related services in cargo delivery and customs brokerage.
                                    [TYPE] => TEXT
                                )

                            [~DESCRIPTION] => 
                            [~NAME] => Описание_EN
                            [~DEFAULT_VALUE] => Array
                                (
                                    [TYPE] => TEXT
                                    [TEXT] => 
                                )

                        )

                )

            [DISPLAY_PROPERTIES] => Array
                (
                    [URL] => Array
                        (
                            [ID] => 16
                            [TIMESTAMP_X] => 2017-06-30 13:58:49
                            [IBLOCK_ID] => 11
                            [NAME] => Ссылка
                            [ACTIVE] => Y
                            [SORT] => 500
                            [CODE] => URL
                            [DEFAULT_VALUE] => 
                            [PROPERTY_TYPE] => S
                            [ROW_COUNT] => 1
                            [COL_COUNT] => 30
                            [LIST_TYPE] => L
                            [MULTIPLE] => N
                            [XML_ID] => 
                            [FILE_TYPE] => 
                            [MULTIPLE_CNT] => 5
                            [TMP_ID] => 
                            [LINK_IBLOCK_ID] => 0
                            [WITH_DESCRIPTION] => N
                            [SEARCHABLE] => N
                            [FILTRABLE] => N
                            [IS_REQUIRED] => N
                            [VERSION] => 1
                            [USER_TYPE] => 
                            [USER_TYPE_SETTINGS] => 
                            [HINT] => 
                            [PROPERTY_VALUE_ID] => 52
                            [VALUE] => /services/sea/
                            [DESCRIPTION] => 
                            [VALUE_ENUM] => 
                            [VALUE_XML_ID] => 
                            [VALUE_SORT] => 
                            [~VALUE] => /services/sea/
                            [~DESCRIPTION] => 
                            [~NAME] => Ссылка
                            [~DEFAULT_VALUE] => 
                            [DISPLAY_VALUE] => /services/sea/
                        )

                    [TITLE_EN] => Array
                        (
                            [ID] => 17
                            [TIMESTAMP_X] => 2017-07-03 14:40:53
                            [IBLOCK_ID] => 11
                            [NAME] => Название_EN
                            [ACTIVE] => Y
                            [SORT] => 500
                            [CODE] => TITLE_EN
                            [DEFAULT_VALUE] => 
                            [PROPERTY_TYPE] => S
                            [ROW_COUNT] => 1
                            [COL_COUNT] => 30
                            [LIST_TYPE] => L
                            [MULTIPLE] => N
                            [XML_ID] => 
                            [FILE_TYPE] => 
                            [MULTIPLE_CNT] => 5
                            [TMP_ID] => 
                            [LINK_IBLOCK_ID] => 0
                            [WITH_DESCRIPTION] => N
                            [SEARCHABLE] => N
                            [FILTRABLE] => N
                            [IS_REQUIRED] => N
                            [VERSION] => 1
                            [USER_TYPE] => 
                            [USER_TYPE_SETTINGS] => 
                            [HINT] => 
                            [PROPERTY_VALUE_ID] => 62
                            [VALUE] => Maritime transportation
                            [DESCRIPTION] => 
                            [VALUE_ENUM] => 
                            [VALUE_XML_ID] => 
                            [VALUE_SORT] => 
                            [~VALUE] => Maritime transportation
                            [~DESCRIPTION] => 
                            [~NAME] => Название_EN
                            [~DEFAULT_VALUE] => 
                            [DISPLAY_VALUE] => Maritime transportation
                        )

                    [PREVIEW_TEXT_EN] => Array
                        (
                            [ID] => 18
                            [TIMESTAMP_X] => 2017-07-03 14:41:09
                            [IBLOCK_ID] => 11
                            [NAME] => Описание_EN
                            [ACTIVE] => Y
                            [SORT] => 500
                            [CODE] => PREVIEW_TEXT_EN
                            [DEFAULT_VALUE] => Array
                                (
                                    [TYPE] => TEXT
                                    [TEXT] => 
                                )

                            [PROPERTY_TYPE] => S
                            [ROW_COUNT] => 1
                            [COL_COUNT] => 30
                            [LIST_TYPE] => L
                            [MULTIPLE] => N
                            [XML_ID] => 
                            [FILE_TYPE] => 
                            [MULTIPLE_CNT] => 5
                            [TMP_ID] => 
                            [LINK_IBLOCK_ID] => 0
                            [WITH_DESCRIPTION] => N
                            [SEARCHABLE] => N
                            [FILTRABLE] => N
                            [IS_REQUIRED] => N
                            [VERSION] => 1
                            [USER_TYPE] => HTML
                            [USER_TYPE_SETTINGS] => Array
                                (
                                    [height] => 200
                                )

                            [HINT] => 
                            [PROPERTY_VALUE_ID] => 63
                            [VALUE] => Array
                                (
                                    [TEXT] => We  develop the best logistical schemes meeting any requirement. We provide the full range of transport and  related services in cargo delivery and customs brokerage.
                                    [TYPE] => TEXT
                                )

                            [DESCRIPTION] => 
                            [VALUE_ENUM] => 
                            [VALUE_XML_ID] => 
                            [VALUE_SORT] => 
                            [~VALUE] => Array
                                (
                                    [TEXT] => We  develop the best logistical schemes meeting any requirement. We provide the full range of transport and  related services in cargo delivery and customs brokerage.
                                    [TYPE] => TEXT
                                )

                            [~DESCRIPTION] => 
                            [~NAME] => Описание_EN
                            [~DEFAULT_VALUE] => Array
                                (
                                    [TYPE] => TEXT
                                    [TEXT] => 
                                )

                            [DISPLAY_VALUE] => We  develop the best logistical schemes meeting any requirement. We provide the full range of transport and  related services in cargo delivery and customs brokerage.
                        )

                )

        )

    [1] => Array
        (
            [ID] => 102
            [~ID] => 102
            [IBLOCK_ID] => 11
            [~IBLOCK_ID] => 11
            [IBLOCK_SECTION_ID] => 
            [~IBLOCK_SECTION_ID] => 
            [NAME] => Воздушные перевозки
            [~NAME] => Воздушные перевозки
            [ACTIVE_FROM] => 
            [~ACTIVE_FROM] => 
            [TIMESTAMP_X] => 07/03/2017 04:35:49 pm
            [~TIMESTAMP_X] => 07/03/2017 04:35:49 pm
            [DETAIL_PAGE_URL] => /en/services/
            [~DETAIL_PAGE_URL] => /en/services/
            [LIST_PAGE_URL] => /en/services/
            [~LIST_PAGE_URL] => /en/services/
            [DETAIL_TEXT] => 
            [~DETAIL_TEXT] => 
            [DETAIL_TEXT_TYPE] => text
            [~DETAIL_TEXT_TYPE] => text
            [PREVIEW_TEXT] => Организация и осуществление авиаперевозок по России и странам ближайшего зарубежья. Мы готовы всего за несколько часов доставить ваш груз в любой уголок мира.
            [~PREVIEW_TEXT] => Организация и осуществление авиаперевозок по России и странам ближайшего зарубежья. Мы готовы всего за несколько часов доставить ваш груз в любой уголок мира.
            [PREVIEW_TEXT_TYPE] => text
            [~PREVIEW_TEXT_TYPE] => text
            [PREVIEW_PICTURE] => Array
                (
                    [ID] => 356
                    [TIMESTAMP_X] => 02.07.2017 16:32:09
                    [MODULE_ID] => iblock
                    [HEIGHT] => 299
                    [WIDTH] => 435
                    [FILE_SIZE] => 243010
                    [CONTENT_TYPE] => image/png
                    [SUBDIR] => iblock/f30
                    [FILE_NAME] => f30a54863c5df095dc09e31260db1770.png
                    [ORIGINAL_NAME] => 9480128f70576617aefb8922a6543a58.png
                    [DESCRIPTION] => 
                    [HANDLER_ID] => 
                    [EXTERNAL_ID] => 7ea44169821275e92019e9624bd6ee7d
                    [~src] => 
                    [SRC] => /upload/iblock/f30/f30a54863c5df095dc09e31260db1770.png
                    [UNSAFE_SRC] => /upload/iblock/f30/f30a54863c5df095dc09e31260db1770.png
                    [SAFE_SRC] => /upload/iblock/f30/f30a54863c5df095dc09e31260db1770.png
                    [ALT] => Воздушные перевозки
                    [TITLE] => Воздушные перевозки
                )

            [~PREVIEW_PICTURE] => 356
            [LANG_DIR] => /en/
            [~LANG_DIR] => /en/
            [SORT] => 200
            [~SORT] => 200
            [CODE] => 
            [~CODE] => 
            [EXTERNAL_ID] => 102
            [~EXTERNAL_ID] => 102
            [IBLOCK_TYPE_ID] => services
            [~IBLOCK_TYPE_ID] => services
            [IBLOCK_CODE] => banners
            [~IBLOCK_CODE] => banners
            [IBLOCK_EXTERNAL_ID] => 
            [~IBLOCK_EXTERNAL_ID] => 
            [LID] => s2
            [~LID] => s2
            [EDIT_LINK] => 
            [DELETE_LINK] => 
            [DISPLAY_ACTIVE_FROM] => 
            [IPROPERTY_VALUES] => Array
                (
                )

            [FIELDS] => Array
                (
                )

            [PROPERTIES] => Array
                (
                    [URL] => Array
                        (
                            [ID] => 16
                            [TIMESTAMP_X] => 2017-06-30 13:58:49
                            [IBLOCK_ID] => 11
                            [NAME] => Ссылка
                            [ACTIVE] => Y
                            [SORT] => 500
                            [CODE] => URL
                            [DEFAULT_VALUE] => 
                            [PROPERTY_TYPE] => S
                            [ROW_COUNT] => 1
                            [COL_COUNT] => 30
                            [LIST_TYPE] => L
                            [MULTIPLE] => N
                            [XML_ID] => 
                            [FILE_TYPE] => 
                            [MULTIPLE_CNT] => 5
                            [TMP_ID] => 
                            [LINK_IBLOCK_ID] => 0
                            [WITH_DESCRIPTION] => N
                            [SEARCHABLE] => N
                            [FILTRABLE] => N
                            [IS_REQUIRED] => N
                            [VERSION] => 1
                            [USER_TYPE] => 
                            [USER_TYPE_SETTINGS] => 
                            [HINT] => 
                            [PROPERTY_VALUE_ID] => 53
                            [VALUE] => /services/air/
                            [DESCRIPTION] => 
                            [VALUE_ENUM] => 
                            [VALUE_XML_ID] => 
                            [VALUE_SORT] => 
                            [~VALUE] => /services/air/
                            [~DESCRIPTION] => 
                            [~NAME] => Ссылка
                            [~DEFAULT_VALUE] => 
                        )

                    [TITLE_EN] => Array
                        (
                            [ID] => 17
                            [TIMESTAMP_X] => 2017-07-03 14:40:53
                            [IBLOCK_ID] => 11
                            [NAME] => Название_EN
                            [ACTIVE] => Y
                            [SORT] => 500
                            [CODE] => TITLE_EN
                            [DEFAULT_VALUE] => 
                            [PROPERTY_TYPE] => S
                            [ROW_COUNT] => 1
                            [COL_COUNT] => 30
                            [LIST_TYPE] => L
                            [MULTIPLE] => N
                            [XML_ID] => 
                            [FILE_TYPE] => 
                            [MULTIPLE_CNT] => 5
                            [TMP_ID] => 
                            [LINK_IBLOCK_ID] => 0
                            [WITH_DESCRIPTION] => N
                            [SEARCHABLE] => N
                            [FILTRABLE] => N
                            [IS_REQUIRED] => N
                            [VERSION] => 1
                            [USER_TYPE] => 
                            [USER_TYPE_SETTINGS] => 
                            [HINT] => 
                            [PROPERTY_VALUE_ID] => 64
                            [VALUE] => Air transportation
                            [DESCRIPTION] => 
                            [VALUE_ENUM] => 
                            [VALUE_XML_ID] => 
                            [VALUE_SORT] => 
                            [~VALUE] => Air transportation
                            [~DESCRIPTION] => 
                            [~NAME] => Название_EN
                            [~DEFAULT_VALUE] => 
                        )

                    [PREVIEW_TEXT_EN] => Array
                        (
                            [ID] => 18
                            [TIMESTAMP_X] => 2017-07-03 14:41:09
                            [IBLOCK_ID] => 11
                            [NAME] => Описание_EN
                            [ACTIVE] => Y
                            [SORT] => 500
                            [CODE] => PREVIEW_TEXT_EN
                            [DEFAULT_VALUE] => Array
                                (
                                    [TYPE] => TEXT
                                    [TEXT] => 
                                )

                            [PROPERTY_TYPE] => S
                            [ROW_COUNT] => 1
                            [COL_COUNT] => 30
                            [LIST_TYPE] => L
                            [MULTIPLE] => N
                            [XML_ID] => 
                            [FILE_TYPE] => 
                            [MULTIPLE_CNT] => 5
                            [TMP_ID] => 
                            [LINK_IBLOCK_ID] => 0
                            [WITH_DESCRIPTION] => N
                            [SEARCHABLE] => N
                            [FILTRABLE] => N
                            [IS_REQUIRED] => N
                            [VERSION] => 1
                            [USER_TYPE] => HTML
                            [USER_TYPE_SETTINGS] => Array
                                (
                                    [height] => 200
                                )

                            [HINT] => 
                            [PROPERTY_VALUE_ID] => 65
                            [VALUE] => Array
                                (
                                    [TEXT] => We manage air cargo transportation within Russian Federation and bordering countries. In the same time we are always ready to ship your cargo worldwide.
                                    [TYPE] => TEXT
                                )

                            [DESCRIPTION] => 
                            [VALUE_ENUM] => 
                            [VALUE_XML_ID] => 
                            [VALUE_SORT] => 
                            [~VALUE] => Array
                                (
                                    [TEXT] => We manage air cargo transportation within Russian Federation and bordering countries. In the same time we are always ready to ship your cargo worldwide.
                                    [TYPE] => TEXT
                                )

                            [~DESCRIPTION] => 
                            [~NAME] => Описание_EN
                            [~DEFAULT_VALUE] => Array
                                (
                                    [TYPE] => TEXT
                                    [TEXT] => 
                                )

                        )

                )

            [DISPLAY_PROPERTIES] => Array
                (
                    [URL] => Array
                        (
                            [ID] => 16
                            [TIMESTAMP_X] => 2017-06-30 13:58:49
                            [IBLOCK_ID] => 11
                            [NAME] => Ссылка
                            [ACTIVE] => Y
                            [SORT] => 500
                            [CODE] => URL
                            [DEFAULT_VALUE] => 
                            [PROPERTY_TYPE] => S
                            [ROW_COUNT] => 1
                            [COL_COUNT] => 30
                            [LIST_TYPE] => L
                            [MULTIPLE] => N
                            [XML_ID] => 
                            [FILE_TYPE] => 
                            [MULTIPLE_CNT] => 5
                            [TMP_ID] => 
                            [LINK_IBLOCK_ID] => 0
                            [WITH_DESCRIPTION] => N
                            [SEARCHABLE] => N
                            [FILTRABLE] => N
                            [IS_REQUIRED] => N
                            [VERSION] => 1
                            [USER_TYPE] => 
                            [USER_TYPE_SETTINGS] => 
                            [HINT] => 
                            [PROPERTY_VALUE_ID] => 53
                            [VALUE] => /services/air/
                            [DESCRIPTION] => 
                            [VALUE_ENUM] => 
                            [VALUE_XML_ID] => 
                            [VALUE_SORT] => 
                            [~VALUE] => /services/air/
                            [~DESCRIPTION] => 
                            [~NAME] => Ссылка
                            [~DEFAULT_VALUE] => 
                            [DISPLAY_VALUE] => /services/air/
                        )

                    [TITLE_EN] => Array
                        (
                            [ID] => 17
                            [TIMESTAMP_X] => 2017-07-03 14:40:53
                            [IBLOCK_ID] => 11
                            [NAME] => Название_EN
                            [ACTIVE] => Y
                            [SORT] => 500
                            [CODE] => TITLE_EN
                            [DEFAULT_VALUE] => 
                            [PROPERTY_TYPE] => S
                            [ROW_COUNT] => 1
                            [COL_COUNT] => 30
                            [LIST_TYPE] => L
                            [MULTIPLE] => N
                            [XML_ID] => 
                            [FILE_TYPE] => 
                            [MULTIPLE_CNT] => 5
                            [TMP_ID] => 
                            [LINK_IBLOCK_ID] => 0
                            [WITH_DESCRIPTION] => N
                            [SEARCHABLE] => N
                            [FILTRABLE] => N
                            [IS_REQUIRED] => N
                            [VERSION] => 1
                            [USER_TYPE] => 
                            [USER_TYPE_SETTINGS] => 
                            [HINT] => 
                            [PROPERTY_VALUE_ID] => 64
                            [VALUE] => Air transportation
                            [DESCRIPTION] => 
                            [VALUE_ENUM] => 
                            [VALUE_XML_ID] => 
                            [VALUE_SORT] => 
                            [~VALUE] => Air transportation
                            [~DESCRIPTION] => 
                            [~NAME] => Название_EN
                            [~DEFAULT_VALUE] => 
                            [DISPLAY_VALUE] => Air transportation
                        )

                    [PREVIEW_TEXT_EN] => Array
                        (
                            [ID] => 18
                            [TIMESTAMP_X] => 2017-07-03 14:41:09
                            [IBLOCK_ID] => 11
                            [NAME] => Описание_EN
                            [ACTIVE] => Y
                            [SORT] => 500
                            [CODE] => PREVIEW_TEXT_EN
                            [DEFAULT_VALUE] => Array
                                (
                                    [TYPE] => TEXT
                                    [TEXT] => 
                                )

                            [PROPERTY_TYPE] => S
                            [ROW_COUNT] => 1
                            [COL_COUNT] => 30
                            [LIST_TYPE] => L
                            [MULTIPLE] => N
                            [XML_ID] => 
                            [FILE_TYPE] => 
                            [MULTIPLE_CNT] => 5
                            [TMP_ID] => 
                            [LINK_IBLOCK_ID] => 0
                            [WITH_DESCRIPTION] => N
                            [SEARCHABLE] => N
                            [FILTRABLE] => N
                            [IS_REQUIRED] => N
                            [VERSION] => 1
                            [USER_TYPE] => HTML
                            [USER_TYPE_SETTINGS] => Array
                                (
                                    [height] => 200
                                )

                            [HINT] => 
                            [PROPERTY_VALUE_ID] => 65
                            [VALUE] => Array
                                (
                                    [TEXT] => We manage air cargo transportation within Russian Federation and bordering countries. In the same time we are always ready to ship your cargo worldwide.
                                    [TYPE] => TEXT
                                )

                            [DESCRIPTION] => 
                            [VALUE_ENUM] => 
                            [VALUE_XML_ID] => 
                            [VALUE_SORT] => 
                            [~VALUE] => Array
                                (
                                    [TEXT] => We manage air cargo transportation within Russian Federation and bordering countries. In the same time we are always ready to ship your cargo worldwide.
                                    [TYPE] => TEXT
                                )

                            [~DESCRIPTION] => 
                            [~NAME] => Описание_EN
                            [~DEFAULT_VALUE] => Array
                                (
                                    [TYPE] => TEXT
                                    [TEXT] => 
                                )

                            [DISPLAY_VALUE] => We manage air cargo transportation within Russian Federation and bordering countries. In the same time we are always ready to ship your cargo worldwide.
                        )

                )

        )

    [2] => Array
        (
            [ID] => 103
            [~ID] => 103
            [IBLOCK_ID] => 11
            [~IBLOCK_ID] => 11
            [IBLOCK_SECTION_ID] => 
            [~IBLOCK_SECTION_ID] => 
            [NAME] => Автомобильные перевозки
            [~NAME] => Автомобильные перевозки
            [ACTIVE_FROM] => 
            [~ACTIVE_FROM] => 
            [TIMESTAMP_X] => 07/06/2017 03:50:00 pm
            [~TIMESTAMP_X] => 07/06/2017 03:50:00 pm
            [DETAIL_PAGE_URL] => /en/services/
            [~DETAIL_PAGE_URL] => /en/services/
            [LIST_PAGE_URL] => /en/services/
            [~LIST_PAGE_URL] => /en/services/
            [DETAIL_TEXT] => 
            [~DETAIL_TEXT] => 
            [DETAIL_TEXT_TYPE] => text
            [~DETAIL_TEXT_TYPE] => text
            [PREVIEW_TEXT] => Переработка непригодных к использованию и выработавших свой ресурс автомобильных шин, позволяет вдохнуть в них новую жизнь.
            [~PREVIEW_TEXT] => Переработка непригодных к использованию и выработавших свой ресурс автомобильных шин, позволяет вдохнуть в них новую жизнь.
            [PREVIEW_TEXT_TYPE] => text
            [~PREVIEW_TEXT_TYPE] => text
            [PREVIEW_PICTURE] => Array
                (
                    [ID] => 379
                    [TIMESTAMP_X] => 04.07.2017 17:24:17
                    [MODULE_ID] => iblock
                    [HEIGHT] => 369
                    [WIDTH] => 590
                    [FILE_SIZE] => 22526
                    [CONTENT_TYPE] => image/jpeg
                    [SUBDIR] => iblock/17f
                    [FILE_NAME] => 17f4888e16d7d15336adb2daa4f66b6d.jpg
                    [ORIGINAL_NAME] => 1132d7e47bcfa97efd93a927e7b9133b.jpg
                    [DESCRIPTION] => 
                    [HANDLER_ID] => 
                    [EXTERNAL_ID] => b8e7d16e6f7705a6fd675549067525e3
                    [~src] => 
                    [SRC] => /upload/iblock/17f/17f4888e16d7d15336adb2daa4f66b6d.jpg
                    [UNSAFE_SRC] => /upload/iblock/17f/17f4888e16d7d15336adb2daa4f66b6d.jpg
                    [SAFE_SRC] => /upload/iblock/17f/17f4888e16d7d15336adb2daa4f66b6d.jpg
                    [ALT] => Автомобильные перевозки
                    [TITLE] => Автомобильные перевозки
                )

            [~PREVIEW_PICTURE] => 379
            [LANG_DIR] => /en/
            [~LANG_DIR] => /en/
            [SORT] => 300
            [~SORT] => 300
            [CODE] => 
            [~CODE] => 
            [EXTERNAL_ID] => 103
            [~EXTERNAL_ID] => 103
            [IBLOCK_TYPE_ID] => services
            [~IBLOCK_TYPE_ID] => services
            [IBLOCK_CODE] => banners
            [~IBLOCK_CODE] => banners
            [IBLOCK_EXTERNAL_ID] => 
            [~IBLOCK_EXTERNAL_ID] => 
            [LID] => s2
            [~LID] => s2
            [EDIT_LINK] => 
            [DELETE_LINK] => 
            [DISPLAY_ACTIVE_FROM] => 
            [IPROPERTY_VALUES] => Array
                (
                )

            [FIELDS] => Array
                (
                )

            [PROPERTIES] => Array
                (
                    [URL] => Array
                        (
                            [ID] => 16
                            [TIMESTAMP_X] => 2017-06-30 13:58:49
                            [IBLOCK_ID] => 11
                            [NAME] => Ссылка
                            [ACTIVE] => Y
                            [SORT] => 500
                            [CODE] => URL
                            [DEFAULT_VALUE] => 
                            [PROPERTY_TYPE] => S
                            [ROW_COUNT] => 1
                            [COL_COUNT] => 30
                            [LIST_TYPE] => L
                            [MULTIPLE] => N
                            [XML_ID] => 
                            [FILE_TYPE] => 
                            [MULTIPLE_CNT] => 5
                            [TMP_ID] => 
                            [LINK_IBLOCK_ID] => 0
                            [WITH_DESCRIPTION] => N
                            [SEARCHABLE] => N
                            [FILTRABLE] => N
                            [IS_REQUIRED] => N
                            [VERSION] => 1
                            [USER_TYPE] => 
                            [USER_TYPE_SETTINGS] => 
                            [HINT] => 
                            [PROPERTY_VALUE_ID] => 54
                            [VALUE] => /services/road/
                            [DESCRIPTION] => 
                            [VALUE_ENUM] => 
                            [VALUE_XML_ID] => 
                            [VALUE_SORT] => 
                            [~VALUE] => /services/road/
                            [~DESCRIPTION] => 
                            [~NAME] => Ссылка
                            [~DEFAULT_VALUE] => 
                        )

                    [TITLE_EN] => Array
                        (
                            [ID] => 17
                            [TIMESTAMP_X] => 2017-07-03 14:40:53
                            [IBLOCK_ID] => 11
                            [NAME] => Название_EN
                            [ACTIVE] => Y
                            [SORT] => 500
                            [CODE] => TITLE_EN
                            [DEFAULT_VALUE] => 
                            [PROPERTY_TYPE] => S
                            [ROW_COUNT] => 1
                            [COL_COUNT] => 30
                            [LIST_TYPE] => L
                            [MULTIPLE] => N
                            [XML_ID] => 
                            [FILE_TYPE] => 
                            [MULTIPLE_CNT] => 5
                            [TMP_ID] => 
                            [LINK_IBLOCK_ID] => 0
                            [WITH_DESCRIPTION] => N
                            [SEARCHABLE] => N
                            [FILTRABLE] => N
                            [IS_REQUIRED] => N
                            [VERSION] => 1
                            [USER_TYPE] => 
                            [USER_TYPE_SETTINGS] => 
                            [HINT] => 
                            [PROPERTY_VALUE_ID] => 66
                            [VALUE] => Road transportation
                            [DESCRIPTION] => 
                            [VALUE_ENUM] => 
                            [VALUE_XML_ID] => 
                            [VALUE_SORT] => 
                            [~VALUE] => Road transportation
                            [~DESCRIPTION] => 
                            [~NAME] => Название_EN
                            [~DEFAULT_VALUE] => 
                        )

                    [PREVIEW_TEXT_EN] => Array
                        (
                            [ID] => 18
                            [TIMESTAMP_X] => 2017-07-03 14:41:09
                            [IBLOCK_ID] => 11
                            [NAME] => Описание_EN
                            [ACTIVE] => Y
                            [SORT] => 500
                            [CODE] => PREVIEW_TEXT_EN
                            [DEFAULT_VALUE] => Array
                                (
                                    [TYPE] => TEXT
                                    [TEXT] => 
                                )

                            [PROPERTY_TYPE] => S
                            [ROW_COUNT] => 1
                            [COL_COUNT] => 30
                            [LIST_TYPE] => L
                            [MULTIPLE] => N
                            [XML_ID] => 
                            [FILE_TYPE] => 
                            [MULTIPLE_CNT] => 5
                            [TMP_ID] => 
                            [LINK_IBLOCK_ID] => 0
                            [WITH_DESCRIPTION] => N
                            [SEARCHABLE] => N
                            [FILTRABLE] => N
                            [IS_REQUIRED] => N
                            [VERSION] => 1
                            [USER_TYPE] => HTML
                            [USER_TYPE_SETTINGS] => Array
                                (
                                    [height] => 200
                                )

                            [HINT] => 
                            [PROPERTY_VALUE_ID] => 
                            [VALUE] => 
                            [DESCRIPTION] => 
                            [VALUE_ENUM] => 
                            [VALUE_XML_ID] => 
                            [VALUE_SORT] => 
                            [~VALUE] => 
                            [~DESCRIPTION] => 
                            [~NAME] => Описание_EN
                            [~DEFAULT_VALUE] => Array
                                (
                                    [TYPE] => TEXT
                                    [TEXT] => 
                                )

                        )

                )

            [DISPLAY_PROPERTIES] => Array
                (
                    [URL] => Array
                        (
                            [ID] => 16
                            [TIMESTAMP_X] => 2017-06-30 13:58:49
                            [IBLOCK_ID] => 11
                            [NAME] => Ссылка
                            [ACTIVE] => Y
                            [SORT] => 500
                            [CODE] => URL
                            [DEFAULT_VALUE] => 
                            [PROPERTY_TYPE] => S
                            [ROW_COUNT] => 1
                            [COL_COUNT] => 30
                            [LIST_TYPE] => L
                            [MULTIPLE] => N
                            [XML_ID] => 
                            [FILE_TYPE] => 
                            [MULTIPLE_CNT] => 5
                            [TMP_ID] => 
                            [LINK_IBLOCK_ID] => 0
                            [WITH_DESCRIPTION] => N
                            [SEARCHABLE] => N
                            [FILTRABLE] => N
                            [IS_REQUIRED] => N
                            [VERSION] => 1
                            [USER_TYPE] => 
                            [USER_TYPE_SETTINGS] => 
                            [HINT] => 
                            [PROPERTY_VALUE_ID] => 54
                            [VALUE] => /services/road/
                            [DESCRIPTION] => 
                            [VALUE_ENUM] => 
                            [VALUE_XML_ID] => 
                            [VALUE_SORT] => 
                            [~VALUE] => /services/road/
                            [~DESCRIPTION] => 
                            [~NAME] => Ссылка
                            [~DEFAULT_VALUE] => 
                            [DISPLAY_VALUE] => /services/road/
                        )

                    [TITLE_EN] => Array
                        (
                            [ID] => 17
                            [TIMESTAMP_X] => 2017-07-03 14:40:53
                            [IBLOCK_ID] => 11
                            [NAME] => Название_EN
                            [ACTIVE] => Y
                            [SORT] => 500
                            [CODE] => TITLE_EN
                            [DEFAULT_VALUE] => 
                            [PROPERTY_TYPE] => S
                            [ROW_COUNT] => 1
                            [COL_COUNT] => 30
                            [LIST_TYPE] => L
                            [MULTIPLE] => N
                            [XML_ID] => 
                            [FILE_TYPE] => 
                            [MULTIPLE_CNT] => 5
                            [TMP_ID] => 
                            [LINK_IBLOCK_ID] => 0
                            [WITH_DESCRIPTION] => N
                            [SEARCHABLE] => N
                            [FILTRABLE] => N
                            [IS_REQUIRED] => N
                            [VERSION] => 1
                            [USER_TYPE] => 
                            [USER_TYPE_SETTINGS] => 
                            [HINT] => 
                            [PROPERTY_VALUE_ID] => 66
                            [VALUE] => Road transportation
                            [DESCRIPTION] => 
                            [VALUE_ENUM] => 
                            [VALUE_XML_ID] => 
                            [VALUE_SORT] => 
                            [~VALUE] => Road transportation
                            [~DESCRIPTION] => 
                            [~NAME] => Название_EN
                            [~DEFAULT_VALUE] => 
                            [DISPLAY_VALUE] => Road transportation
                        )

                )

        )

)